How to Address Academic Integrity in Your Syllabus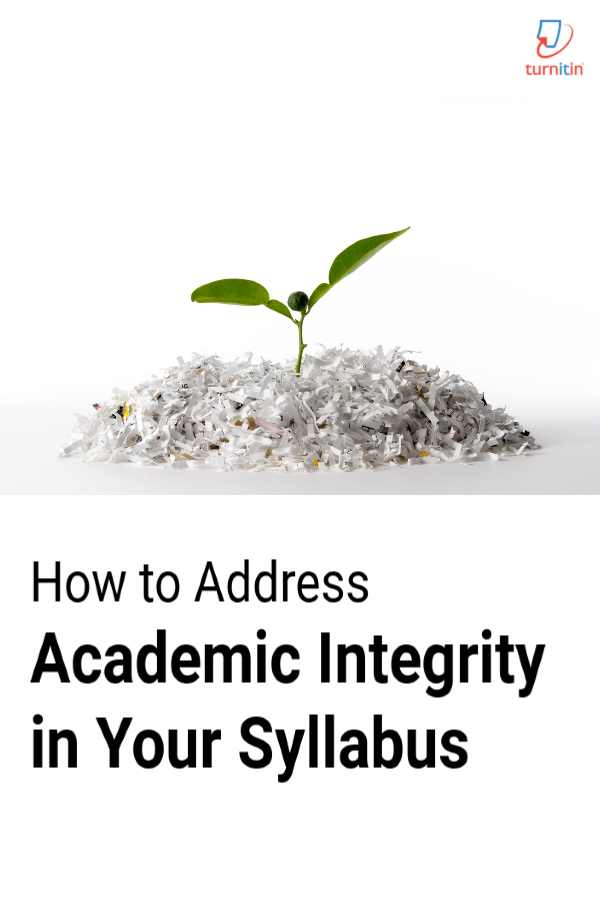 We shared some of our thoughts on incorporating/addressing academic integrity in your course syllabus. I decided to include some real-life examples from my own course syllabi since we teachers love sharing such resources. Hope this is of use!

What sorts of things do you do to uphold academic integrity in your syllabi? What are your thoughts?

We are beginning our partnership with Turnitin. In the Registration Agreement, this section prompts my question as to how did/does your institution address this? Is there a standard course syllabus used which includes the disclaimer below? We plan to copy the disclaimer on our LMS landing page. Has your institution included the information elsewhere? Thank you - Cara McEldowney, University of Mount Union

consider Turnitin's strong recommendation that the course syllabus of each course making use of the Service carry a notice substantially to the effect of the following: "Students agree that by taking this course all required papers may be subject to submission for textual similarity review to Turnitin.com for the detection of plagiarism. All submitted papers will be included as source documents in the Turnitin.com reference database solely for the purpose of detecting plagiarism of such papers. Use of the Turnitin.com service is subject to the Usage Policy posted on the Turnitin.com site." If use of the Service is instituted after distribution of the syllabus, then Institution shall consider Turnitin's strong recommendation that equivalent written notice is provided by the Instructor to the Students;
consider Turnitin's strong recommendation that students enrolling at Institution receive clear notice similar to paragraph 3(e) above in their student handbook or comparable communication at the time of enrollment; and, Turnitin may, in its sole discretion, suspend Institutions or any of its Instructor's or Student's access to the Service to (i) prevent damages to, or degradation of, the Service; (ii) comply with any law, regulation, court order, or other governmental request; (iii) otherwise protect Turnitin from potential legal liability; or (iv) address a breach of the Acceptable Use Policy set forth in the Usage Policy for the Turnitin.com site. Turnitin shall use reasonable efforts to provide Institution with notice prior to or promptly following any suspension of the Service. Turnitin shall restore access to the Service as soon as the event giving rise to suspension has been resolved.